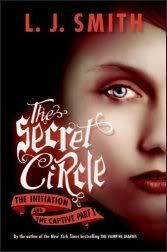 I finished the Secret Circle in about 3 days, just because I didn't have much time over the weekend to read. But it was a decent book, well worth the read, I give it a 4/5!
It starts off with a girl named Cassie vacationing in the New England area. She is on the beach with some "friends" and she sees this boy running down the beach and away from these guys. Well she chases the boy down the beach and finds him. She helps him hid from the guys, not knowing that he'll play a big part in here life later one.
Cassie's mother informs her that they can't go back out West to go home, because they have to move in with her grandmother, that she has neve met before. So Cassie and her mother move to a street in New Salem that has 12 houses on the road, some are nice and some are not.
Cassie starts school off on a bad start, but then she meets Diana and her "group" of friends that change her life forever.
This book was a good read. I really enjoyed it although a FEW parts were predictable, I really liked it.