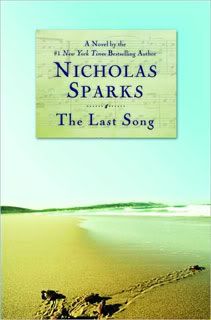 The Last Song was a wonderful book, it had all the romance, drama, and heartbreak that comes from Nicholas Spark's book.
This is by far one of my favorite Nicholas Spark's books.
Veronica "Ronnie" lives in New York with her mother and little brother. Ronnie is a wild child and constantly fights with her mother about everything. Her father moved to North Carolina after they separated. Her mother sends her and her little brother to stay with their father for the summer. While down there she meets this girl named Blaze (who of course is in with the wrong crowd). Blaze gets mad at Ronnie about something that wasn't even her fault...then pins something on her that could ruin the rest of her life.
Since Ronnie and Blaze aren't talking she meets this boy names Will, the town heart-throb, and of course falls for him...but does it turn out to be more than a crush???
This book is a common story of the life of a teenage girl and a love story..However, I thoroughly enjoyed reading it. It is by far one of the better Nicholas Sparks books!