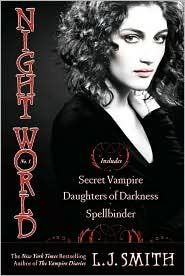 There are few things that I can say that are good about this book.
It had a good story line, and the whole concept was a GREAT idea..however, it was not written in a way that I enjoyed.
The first story, was about Poppy and James. James is a vampire in the Night World..a thing that humans must absoultly not know about...however his soulmate is Poppy, a human.
The second story was about Ash and Marylynn. Ash is James' kin and falls for Marylynn.
The third story is about two girls, who are related to Ash but they're witches. They were in the second (may have been the first) story. Anyways, Thea falls in love with Eric, a human.
So it is kinda neat how they're all connected together, but unless you have a lot of free time, or REALLY enjoy L.J. Smith books..wait to read this one. I'm not saying anything bad about the author..I loved Vampire Diaries! And I was soo hoping that Night World was gonna be good, it has a good basis....but I didn't like it.
So it gets 2.5/5 stars!